Guest blogger Glen Kessler, an artist and teacher, takes on the art schools and shares his thoughts on changing the very structure of learning.
Today, whether you're taking art classes at a university or in open-enrollment classes/workshops at your local community center, you are most likely learning in the "a la carte" mode. You grab classes from a buffet of options as your interests dictate and hope to improve through the accumulation of lessons learned.
But is this model truly the best way to learn art? Some today argue strongly NO.
Universities wrestle constantly with the a la carte mode of offering classes (that is, how much freedom to give their students in crafting their schedules) versus enforcing a more regimented progression of classes with fewer electives. On the one side, freedom to choose likely means students are more engaged in the classes they take.
However, that freedom may mean that students graduate with holes in their knowledge. Dictating what students must take may guard against such holes. But administrations focused on their bottom line fear its possible rejection from a student body accustomed to more freedom.
Many art students are beginning to reject the notion that they need to pay upwards of $150,000 for a Bachelors degree only to graduate with spotty skills in what should be their professional field (and another $50,000+ for a Masters degree). But universities and art schools are slow to adapt to such changing sentiments, if they are even aware of them.
Open-enrollment art class students are also seeing a growing dissatisfaction in the randomness of a la carte learning. Students often enroll in seasonal weekly classes (8-10 week classes) that focus on a single lesson or method of working. Over the course of years, they may study with a number of different instructors, at different venues, and in different approaches.
That variety has its merits, but for many whose interest in art ranges from hobbyist to semi-professional, the results are more typically confusion and very slow growth. Many students attempt to add continuity by studying with a single instructor, only to find that the inherent nature of an 8-10 week class forces the teacher to "hit the reset button" each term.
A savvy cadre of students, young and old, professional and hobbyist, have found schools around the country that offer a more cohesive, comprehensive curriculum…and often at a fraction of the cost of a university education. A quiet Atelier Movement is sweeping the country and world. Small schools from New York to Seattle, as well as internationally, are redefining art learning by looking to the past.
Classical learning, as it was defined in the 19th century, organized techniques into steps where one skill had to be mastered before moving onto the next. The result was some of history's finest technicians. Today that classical learning is being combined with contemporary concepts to create what may be a new Renaissance in art-making.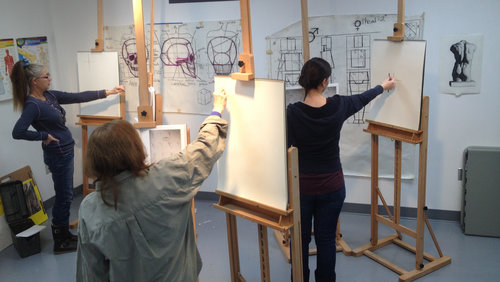 What we are seeing could be a leading indicator that perhaps the luster of Postmodernism is beginning to fade. The pluralism that has served as Postmodernism's main attribute these past 30 years sought to champion the individual voice. However, with every artist speaking ostensibly their own language, true appreciation of the individual has been lost to the noisy anarchy that has been its result.
We may be seeking as a culture, and thus as artists, to return to some semblance of a shared language. For a visual medium like painting, it is to the observable world that we most logically turn.
Measurable skills, confidence, and shared imagery are all attributes of the Atelier Movement and its many schools. TRAC (The Representational Art Conference) held in Ventura, CA in March 2014 brought together many of the artists and teachers at the forefront of this movement, as do sites like Art Renewal Center, a database for trusted Ateliers.
Glen Kessler is a painter and teacher based in the Washington, DC area. He is also the founder of The Glen Kessler Atelier in Rockville, MD, which offers a 3-year program that takes students from basics through Master level art-making in a cohesive and comprehensive curriculum. 
Want to stay current on cutting edge business articles from Artsy Shark, plus artist features, and an invitation to the next Call for Artists? Subscribe to our twice-monthly Updates, and get a free e-book on Where to Sell Art Online right now!