by guest blogger Renee Phillips
One of the signs of a reputable and trustworthy gallery is they have represented many of their artists for several years.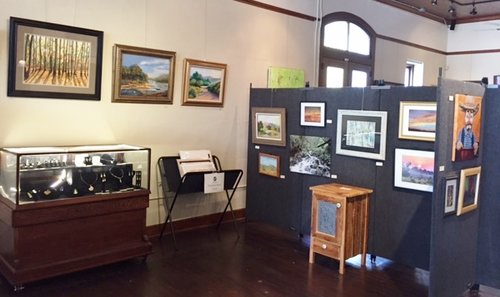 Successful longevity is an indication that galleries have worked toward building a positive symbiotic relationship. And if you're like most artists, that's the kind of gallery you want. Although it is possible to achieve, recent events in the art world have presented new challenges that need to be acknowledged.
First of all, finally, the balance of power between artist and dealer is now more equal than ever before. Artists maintain their own websites, promote themselves actively in social media, and have their own online stores on their websites as well as those hosted by online galleries. As a result, many gallery owners may feel more vulnerable. They may need reassurance that the new artist they represent will be a reliable partner who can be trusted and not sell art behind their backs.
Their concerns are accelerated by economic facts. In our current financial climate, operating a gallery has become more expensive, competitive, and time-consuming, especially those located in major cities. To maintain a profitable art business on an international scale, they have to take on more activities, such as traveling to art fairs around the world and hiring social media experts to promote their artists.
Keeping those facts in mind, when you consider working with a gallery, a priority should be to attain a comfort level of trust and cooperation from the first interaction. Here are some suggestions to insure you get the long term relationship you desire:
Communicate
From the beginning, display an amicable and cooperative behavior. Prior to, and after a decision has been made to work together, strive to achieve a thorough understanding of each other's expectations and responsibilities. Begin the formal relationship with a clearly written artist-gallery agreement. This will go a long way to form a beneficial alliance and prevent most misunderstandings from occurring.
Participate
After you join the gallery, resist the temptation to hibernate in your studio. Be an active partner. Check in with the gallery on a regular basis. Ask them what you could do to help them sell your artwork. Discuss art marketing ideas to increase traffic and exposure. For example, offer to present an artist's talk in the gallery, or another event, and invite local business owners and organizations, and announce the event on social media.
Promote
Publicize your gallery whenever possible. If the gallery has made a considerable effort to promote you, do your best to reciprocate. Add the gallery and a link to its website from your website. Mention your affiliation on your blog and social media posts. Reach out to writers and publications you know to generate publicity for you and the gallery. Suggest doing a video interview with your gallery owner and place it on YouTube.
Share information
When you receive a significant award, special commission or other achievement, immediately update your resume and share this information with your dealer so they can inform their collectors. On the other hand, if you learn about a new luxury residential building that has emerged, share this opportunity with the gallery.
Collaborate
If you hold an open studio or an exhibition in a venue outside the gallery, include the gallery owner as part of the experience. Invite him/her to attend as a special honored guest. This gesture will go a long way in developing a trust and camaraderie. They may also be happy to do what they can to help you promote your exhibition and increase visitors and sales for a commission.
Trustworthiness
Should a potential buyer ever contact you as a result of seeing your art in the gallery, tell them politely to contact the gallery directly. Inform the gallery about this situation without delay. Also, avoid selling artwork from your studio that is similar to your art in the gallery at prices below theirs.
Whether it is a gallery, private dealer, or an agent, when you take action toward attaining mutual cooperation, the sky is the limit as to how far and long your relationship will go. The other individual will value your partnership and you will both reap many benefits for years to come.
You may also want to read Your Relationships With Art Galleries and Agents and The Written Agreement and Questions to Ask Art Galleries Before You Deliver Your Art Work.
.

Renée Phillips, The Artrepreneur Coach, helps artists achieve their fullest potential in consultations and coaching. She offers art-business articles and e-Books. As founder/director of Manhattan Arts International, she promotes artists in curated art programs and online exhibitions. She is also the founder/editor of The Healing Power of ART & ARTISTS.
Want to stay current on cutting edge business articles from Artsy Shark, plus artist features, and an invitation to the next Call for Artists? Click below to sign up for our twice-monthly email. You'll get all this plus opportunities and special offers that you can't get anywhere else!