By Carolyn Edlund
More insider perspective on starting a greeting card line, this time on Marketing and Sales.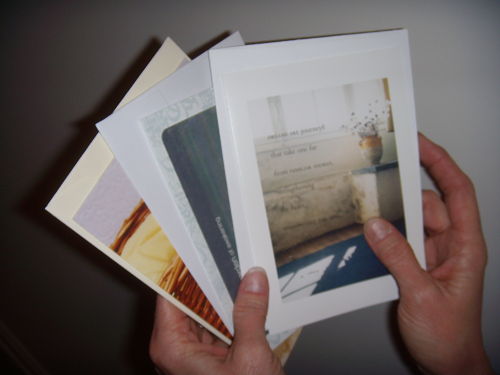 How should you price your cards?
This depends on your costs, and the profit you desire. The average card on the market runs about $2.50 retail. You will be paid the wholesale price (1/2 of retail) so a pack of six cards would sell for $7.50. Cards with special details, such as glitter, rhinestones, special folds, etc. sell for more. Quite often these specialty cards are wrapped in cellophane to protect them. Meri Meri has a beautiful line which is expensive but sells well. Don't underprice your cards hoping for better sales – it won't work in the long run, and you devalue your work and cut your profits.
What about minimums?
That's up to you. Remember, you are not "consigning" your cards – they are sold outright and you get a check or credit card number from the store buyer. If you want to set a minimum of $100, that's fine. You want to have a good enough assortment of your cards in the store. However, I have seen companies use a "no minimum" policy – and if the buyer wants it, they almost always write a good sized order anyway.
What about returns?
The reality of the card business is that you must accept returns to make more sales. A 10% return allowance is very fair. This means you will allow the return in exchange for different (and better selling) merchandise within a repeat order, not a refund.
Should you have sales reps selling your line?
My opinion on this is Yes! Most importantly, hire really good reps. I've been on both sides (as a production artist and as a rep myself), and can tell you that a bad rep is useless and a good rep is a goldmine. Why? Reps have established relationships with their wholesale accounts, can really showcase your line, get your product great placement in a store, and bring you long-term profitable accounts. Most busy, successful store owners will rarely see a lone artist who walks in to sell them one card line. But they know and trust their regular reps whose multiple lines they buy. Savvy reps have heavy influence on buyers and can get you business you could never get for yourself.
Where do you find a sales rep?
Get familiar with trade journals like Giftware News. You could list an ad for a rep at Great Rep or visit a trade show like the Stationery Show, advertise for a rep on your website or speak with other vendors in your market. Reps often work in groups, and sell complimentary lines.
Treat your reps well.
Sales reps work on straight commission. Standard commission on card lines is 20%. That might sound like a lot, but they have lots of expenses, and a successful rep is well worth the money. Plus, by using reps you can sell all over the country, and that's a lot of potential business!
What about niche markets?
You might have a line that appeals to a certain group. One example is Sandi Timberlake's card line called A Little to the Left which is designed for a gay audience. We talked about her marketing, and I suggested that she partner with other vendors who are selling wholesale to stores that cater to the gay community. You may share a rep who calls on this niche market and can cross-sell many lines into a store looking for a certain type of merchandise.
Should you exhibit at a trade show?
They can be very pricey, and to justify exhibiting at a show you need an extensive product line (or partner up with someone selling a complimentary line to your target market). Trade show attendance has fallen off in recent years. A website would showcase your card line less expensively while being accessible 24/7. If you can afford to do trade shows, you can meet tons of prospects and buyers for huge accounts and chains stores too.
Why shouldn't you just use CafePress or Zazzle to print your cards?
These online "Print on Demand" vendors have an ingenious business model, and they create printed merchandise one-at-a-time. If as an artist you prefer to focus on your studio work and offer your designs on cards, mugs or t-shirts as a sideline, you may want to use them. However, if you want to get into the greeting card business, and pursue it full time, it is much more cost-effective to use a commercial printer.  You will find that the cost to you for each card and envelope will be literally pennies whereas Zazzle, for example, charges artists $1.49 per card. Although they have a place in the market, they would be a very expensive middle man.
What other alternatives are there?
You could sell your art to a greeting card company, via a licensing agreement. The card company will take care of writing the greetings, production, marketing, and sales of the merchandise.  I have an interview coming up with some of these buyers, so check back on this site to get details on what they buy, and the type of art they are seeking.
This is the third in a three-part series about starting a greeting card line. Previous articles are:
What You Didn't Know About Starting a Greeting Card Line (Part 1)
What You Didn't Know About Starting a Greeting Card Line (Part 2)
Author Carolyn Edlund is the founder of Artsy Shark and a business consultant for greeting card entrepreneurs. Need assistance to improve or grow sales of your own line? Find out more here.
Want to stay current on cutting edge business articles from Artsy Shark, plus artist features, and an invitation to the next Call for Artists? Click below to sign up for our twice-monthly email. You'll get all this plus opportunities and special offers that you can't get anywhere else!