by guest blogger Bonnie Glendinning
Why branding can be confusing, and what artists need to know.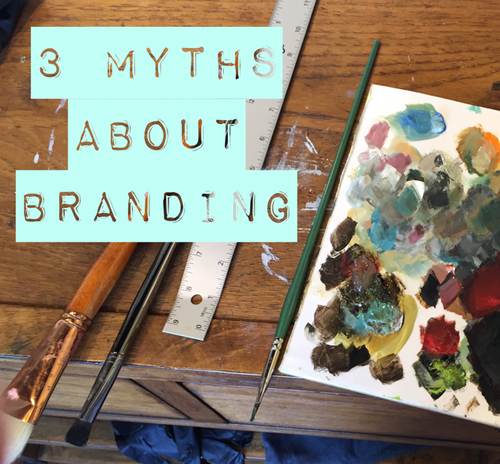 Branding is often misunderstood and completely overlooked by artists. This is heartbreaking because it is critical to your art business success.
Typically, artists will dive right into marketing without understanding what your art means to the customer, and worse, not knowing who your best customer is. You will usually end up with random, hit or miss results, a lot of frustration, and feeling discouraged because you proceeded without vital details on your side.
The 3 myths you are told about branding are:
Myth #1: Your art will sell itself
Truth: You aren't really selling art. Rather, you are selling an emotion and experience to your customers. Your brand will encompass this and help mitigate the relationship gap from stranger to customer.
Myth #2: All you need is a logo and a website
Truth: Sometimes you don't need either one! A logo and website are only expressions of your brand. Developing your brand is a process of discovery to understand the nuances and depths of what your brand is for your audience.
Myth #3: Marketing IS branding
Truth: Branding is more important as it comes before marketing. A brand is the foundation of any business (and, yes, professional artists are a business) to be relatable to their customers. If you are not relatable, then you will not have customers to market to.
Why brand as an artist?
Simply put, to stand out and connect.
I know this will be hard to believe as an artist — but, art is not essential to our physical survival. Art is a luxury because it's "a want" versus "a need". You must integrate this truth within your business and brand.
There is more noise than ever to compete with. You brand to ensure you are the signal and not part of the noise. We as consumers select brands we know and trust because it is a shortcut through the abundance of choices.
You are doing a disservice to your customer (and yourself) by not standing out to meet their specific needs, wants, and desires.
Additionally, a strong brand will be the foundation to gain your customers' loyalty and allow you to command a premium price for your art, products, and services.
What is a brand for an artist?
A brand is not your logo, fonts, icons, social media, website, colors, images. These are just expressions of your brand used in your marketing.
It is for any business including your art business. It is not just for large corporations or celebrities.
Branding is your relatable essence and experience to connect with your customers. It allows you to show up in a true-to-you way, expresses meaning and a sense of purpose, and forms a vital pact with your audience.
How does branding fit in overall?
Branding sets the stage for humanizing your business, enables an ongoing conversation, and leads to a trusted relationship.
My simple 3-step formula for you is: 1 + 2 = 3
Branding (Meaning/Feeling)
Your relatable essence to connect with your customers.
Marketing (Community)
Create experiences through shared aspirations, ideals, beliefs.
Sales (Trust)
Transactions occur after the relationship is established.
Where do you start?
Your customers are seeking the unique combination of you and your art.
I suggest you start by answering these 3 questions about you, your art, and how these integrate into your business.
Who are you? (What are you about? What do you stand for?)
What do you do? (What is your expertise?)
Why does it matter? (What reason will incite them to connect/buy?)
Pro Tip: It can be easier to identify what you don't want. So, if you are feeling stuck, focus on who you are not and what you do not do, to spark some ideas.
Your answers will begin your process of understanding who your customers will be and creating a relatable brand experience to connect with them.
In summary, your brand is the key to:
Be confidently "you" to rise above the crowd
Connect with your best customers
Inspire customer loyalty
Command a premium price
Trust me, it is well worth your effort to take this essential discovery step to grow your career and business through your art brand.
Cheers to your branding success!
Bonnie Glendinning, founder of The Artists' Mentor, The Thriving Artist and Artmuse®, provides education, programs and brand mentorship for professional artists. As an artist, designer and entrepreneur herself, her mission is to empower artists to create their artistic legacy.
Want to stay current on cutting edge business articles from Artsy Shark, plus artist features, and an invitation to the next Call for Artists? Click below to sign up for our twice-monthly email. You'll get all this plus opportunities and special offers that you can't get anywhere else!