by Carolyn Edlund
Want to join the "big leagues" and get your work into chain stores? Here's how to survive and thrive without losing your shirt.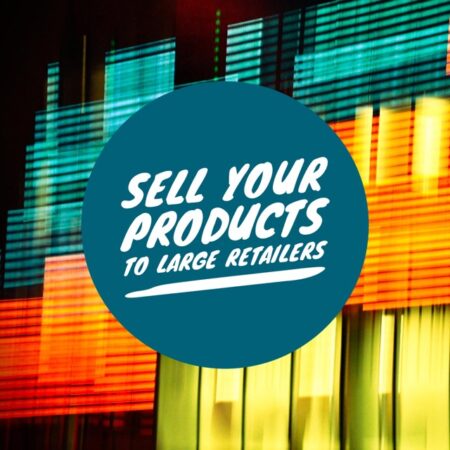 I received a phone call a while back from a man who wanted a consultation about developing his greeting card line and launching it into the marketplace. At one point he said, "I'd like to sell to Walmart."
This was a bit of a leap for a newbie, but since there is a lot to know about dealing with national retailers and chain stores, I'd like to take some of the mystery out of it. While I'm not recommending that you approach Walmart, I'd like to address the process of selling to large retailers, and how you may be able to do that to grow your business.
My own experience, both as the owner of a production handmade jewelry studio selling to several national accounts, and as a manufacturer's rep calling on and servicing quite a few chain accounts, has been eye-opening. There is a huge difference between working with a small independent mom-and-pop retailer and entering the world of corporate buyers.
So, will you make a fortune, or lose your shirt? Can you handle the volume? Will you be able to deliver, grow and make a fantastic income? Or will you crash and burn, trying to pick up the pieces of your former small business and swearing off selling to the big leagues forever?
Get prepared
Before you even start thinking about soliciting large retailers, you need to have a solid product line that is priced profitably at wholesale. You will also need adequate access to suppliers, whom you will be buying your materials from – also at wholesale. Arrange to get credit terms with your suppliers, so that you don't load up your credit cards with charges for those supplies, and then wait for months to get paid by the chain (90 days or more is not uncommon).
You need to know that your materials suppliers can provide large enough quantities to you relatively quickly. A backup supplier should be secured as well. A lack of supplies leading to your not shipping on time could mean your orders are cancelled, sending you back to square one.
You must have the capability to produce volume from your studio, or to be able to ramp up quickly due to demand. Make sure that you have systems in place to allow for scalability. You've got to be flexible and prepared to produce and ship large orders, on time. This leads to the topic of hiring either employees or independent contractors to help you, which is another article in itself – but something you must be prepared to tackle when the time comes.
What about your existing business? 
If you have existing wholesale accounts, it probably won't surprise you that they might not be pleased to hear that your work is selling to large chain stores. This can take the desirability right out of your line, so you need to be prepared to deal with it. One suggestion is to offer a slightly different product line to chains which won't compete with the line your independent retailers are carrying. It's not uncommon for a small business to produce separate collections, with different labeling which won't be confusing for shoppers and will protect their independents.
I would caution entrepreneurs to think carefully before throwing your existing book of business to the wolves, even if you do land a big order with a national chain. Your order may be a one-off, and your chain store business can vanish as quickly as it was obtained. Most small businesses need the stability of a diversified customer base.
Years ago, I met a woman who owned a jewelry company with a huge volume of business going, but only one account. If her products fell out of favor with that national department store (or if the buyer she was dealing with was replaced), she could be out of the chain and out of business very quickly. Obviously, her entire job was to make this retailer very happy, sell tons of product, and continue their relationship.
Corporate Buyers 
So, how do buyers for large retailers find products which they would like to carry in their stores? They certainly go to trade shows, and if you plan to go that route, you should consider finding a show that closely matches your niche to be able to connect with the right buyers. You can also check with the list of buyers on a trade show website if that is available.
Chain buyers also meet with sales reps who give them presentations on different product lines. These reps are called "national sales reps" because they work with large national accounts, as compared to "territory reps" who work in designated geographic areas. As a small entrepreneur, it is unlikely that you would have a national rep unless you found someone experienced who was working for themselves and agreed to represent you to some of their connections in the world of corporate buyers. I personally only know of one rep doing this, while he was in between jobs and willing to be a hired gun for the right manufacturers. Most of his clients were importers.
Another way to connect is to go to an open call for small lines with a buyer who is designated to meet with micro-businesses (like you!) I landed a big chain account this way, attending a one-day "meet the buyer" event. About thirty potential vendors were herded into a room and allowed to set up a table display. We were excused while the buyers considered our lines. Upon our return, a Purchase Order form on our table meant an order would be placed.
To find out whether this type of opportunity may be available at a chain prospect you want to reach, check with a local store or their corporate headquarters. An artist I recently worked with met with a buyer at Henri Bendel at this type of event. Do your research to find out whether your targeted retailers offer this type of opportunity.
The Sales Process
Buyers for large retail stores may be working with vendors at the national level, or at a regional level – which could be the best way for you to get entry into that retailer.  Since you have limited production capabilities, it will probably be a better fit.  It also allows the retailer to test out your merchandise in several stores before making a bigger commitment.
It may also be that your products are only appropriate for certain demographic areas. I highly encourage small businesspeople to meet with a regional buyer, or even a store level buyer, if they have the latitude to place orders. You will need to be an approved vendor, which can be a process in itself, so go in with that understanding.
Of course, large retailers have a lot of pull because of their size, and they expect to get great pricing from their vendors. Know your absolute lowest price when entering into negotiations with any buyer.  You will need to understand their expectations on returns, terms for payment (they may want 2/10 which gives them a discount, or Net 60 or other special arrangements), and dates they need your merchandise in their stores.
Large retailers vary considerably, so there is no hard and fast rule to go by. You will most likely be told how they place orders, and what their requirements are. If you are not willing or able to deal with these, save yourself a lot of headaches and decline the order.
Receiving Departments
As a rep, whenever I called on a chain store, I would sign in as a vendor to let the manager and staff know that I was there. But I usually didn't search out the store manager first. I would head right to my favorite part of the store – the Receiving Department.
The Receiving Manager is a really good person to know, because they handle incoming deliveries from UPS, Fedex and tractor trailers that back up to their loading docks all day long. These are the people who control the flow into the store, and enter deliveries into the computer, which lets the managers know what merchandise is in. These are all kept track of by Purchase Order number, which is why that magical number is one of the most important pieces of information you need when communicating with a store. Plaster your P.O. number on every document you send, on the outside of your boxes and refer to it in emails.
Small businesspeople like yourself, who don't have a rep force or merchandisers working for you, won't be normally walking into the receiving department of a store, but it's good to know how this area works. It can be controlled mayhem. Receiving often has boxes stacked on shelves nearly to the ceiling. There are usually quite a few people working in Receiving, who check incoming orders and funnel them to the store staff who will be stocking the floor. Other stock rooms are often used in departments of the store holding merchandise waiting to go out.
Display Racks
If you offer display racks for your product line, they will often be drop-shipped from the rack manufacturer to the store separately from your order (with that all-important P.O. number on the box!) to match up with your merchandise when it arrives.
Racks can get damaged, lost, or thrown out by accident sometimes. Things happen, so you should have a big picture view of possible costs and hassles before you write those orders and ship them. Receiving staff is often easier to reach than managers, and they can give important information about shipments that have or haven't arrived. On the other hand, you won't be making a bunch of calls to individual stores you are doing business with. You would usually speak with the buyer's office with concerns about orders, and they will connect you with the right people.
Contacts
Since buyers can be hard to reach, make it a point to get to know their assistant. They can turn out to be the best friend you have at the chain. The assistant can often dislodge a log jam, get you important information, or make sure the buyer calls you back. They can also get you appointments to meet with a buyer, so understand and respect their value.
Even if you ship on time and you believe the stores should have your goods, it doesn't mean that all of your work is going out on a certain day – or a certain week. All stores are different in that their layout or sheer size varies. So you don't usually get a cookie cutter space and display all the time, even though stores use "planograms" which are like maps of their stores with product areas and layouts that make sense.
Returns
These can be a plague on your small business. Returns of merchandise that has been damaged, unsold, or returned by customers can wreak havoc on your bottom line. Make sure you have a clear understanding when your orders are written of what the chain can and may return to you for credit. This is one reason you need to make sure your prices are giving you enough buffer to earn a profit and not go broke when things happen.
Trunk Shows
One way that large retailers work with suppliers is to allow them to appear at trunk shows. This can be a fantastic opportunity to interact with retail customers, bring merchandise to sell that isn't in the store stock, and earn extra money – you will most likely be paid your wholesale price for any trunk show sales you make. It allows the retailer to promote events and appearances, while taking no risk. My experience doing trunk shows was that they were well worth the effort.
Summary
This is by no means a comprehensive look at selling to large retailers, but a taste of what it takes to get involved with this type of account. Sometimes only one of your items is chosen by the buyer. Other times, you get a limited run and a chance to sell a large quantity for a short time period. Still other creative entrepreneurs deal with chains quite frequently and have made that type of relationships a mainstay of their business.
Want to stay current on cutting edge business articles from Artsy Shark, plus artist features, and an invitation to the next Call for Artists? Click below to sign up for our twice-monthly email. You'll get all this plus opportunities and special offers that you can't get anywhere else!